Finest imported products Thailand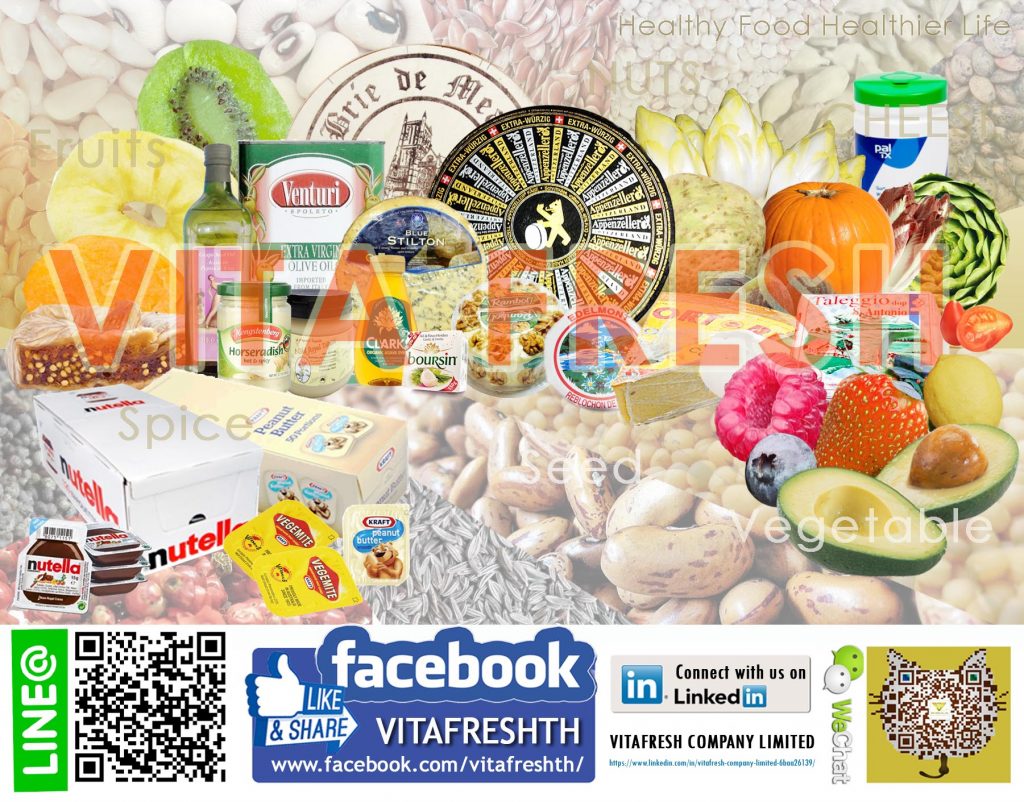 Finest imported products in Thailand
Fresh products imported
such as Vegetable Fruit Mushroom Cress Tomato
IQF & FROZEN Fruits & Vegetables
We know the best how to preserve maximum freshness and nutrients.
Blueberries and cranberries in particular contain very beneficial antioxidant properties helpful in the fight against heart disease, cancer, urinary tract infections and cataracts.
Cheese imported from Europe
Our cheese are almost from Europe including France, Italy, Switzerland, and etc.
Middle food imported
Cous Cous In Fine, Flower Water, Halva Plain, Halva Pistachio, Molakia In Tins
Dried products import such as Nut, Seed, Bean, Dried Vegetable, Dried Fruit, Dried Mushroom
Processed such as Parma ham
SALAME, COPPA, PROSCIUTTO DI PARMA
Various groceries
Rock Salt, Vegemite, Pommery mustard, Peanut Butter, Nutella Portions , Mint Jelly, Rose Water
Pal's chef hat
Master chef hat, Mesh Hat, Disinfectant Wipes, Piping Bags
For more details,
Line@, wechat, facebook, linkedin, email or call to us follow the contact below

VITAFRESH ( Finest imported products ) with over 3 decades of experience can guarantee quality and service.
Other products / สินค้าอื่นๆ
VITA FRESH FINEST IMPORTED PRODUCTS SINCE 1980 • FRESH FRUITS & VEGETABLES• CHEESE• FROZEN FRUITS & VEGETABLES• DRIED FRUITS• Fillo & Kataifi Pastry• SPICES• HERBS• NUTS SEEDS BEANS CEREALS• CHEF HATS• VARIOUS GROCERIES & CONDIMENTS