Crepe Forage hats
Product of United Kingdom
Premium quality Forage hats by Pal International
8.4 Cms High
Head band: Adjustable
Packing: 100 pieces / box
Forage hats available for sale in Thailand
Description
Pal Crêpe Forage hats are special forage hats made from crêpe paper, giving comfort, strength and absorbency.
Choose from either a Tissue paper or Mesh nonwoven fabric crown. Pal crêpe forage hats are stocked items in plain white. These hats can also be supplied with Red.
หมวกกระดาษ
สะดวกสบาย สวมใส่ง่าย สามารถปรับความกว้างได้
หมวกกระดาษ ยี่ห้อ Pal international
แบรนด์หมวกเชฟ ชั้นนำ จาก ประเทศ อังกฤษ

MOB CAP หมวกตัวหนอน หมวกม็อบ หมวกคลุมผม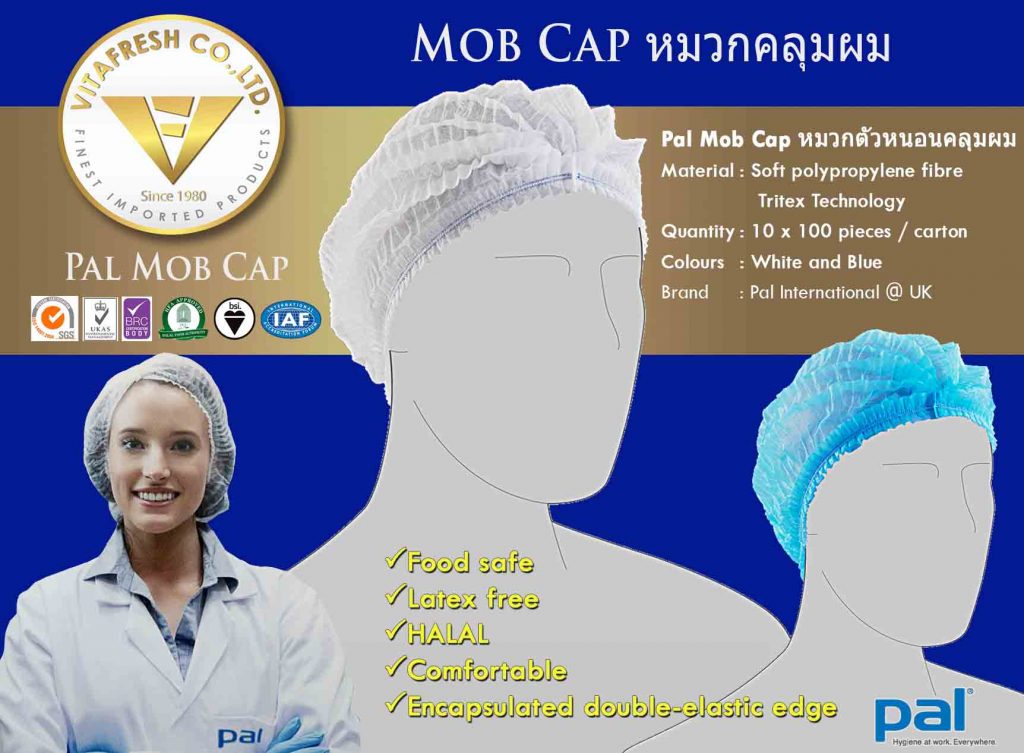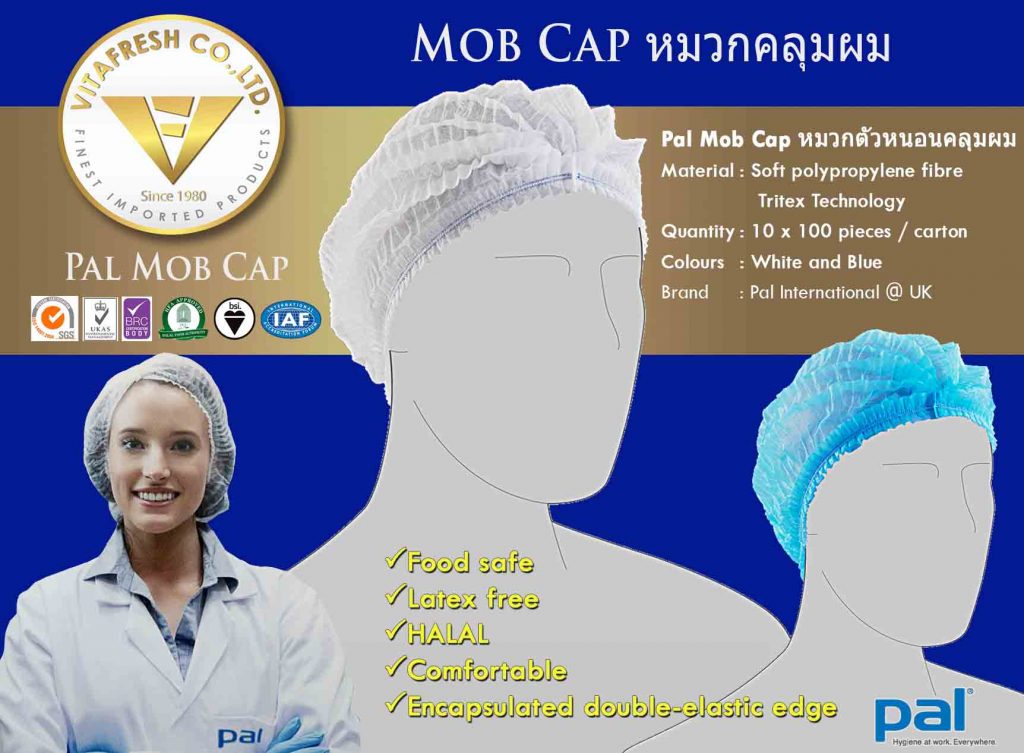 Premium quality mob cap by Pal International
Packing: 10 x 100 pieces / box
Colour: White & Light Blue
Pal mob cap available for sale in Thailand
Pal Mob Caps are a made from soft, comfortable, thermally bonded polypropylene fibre.
Food safe
Latex free
HALAL
Comfortable
Encapsulated double-elastic edge
MOB CAP หมวกตัวหนอน หมวกม็อบ หมวกคลุมผม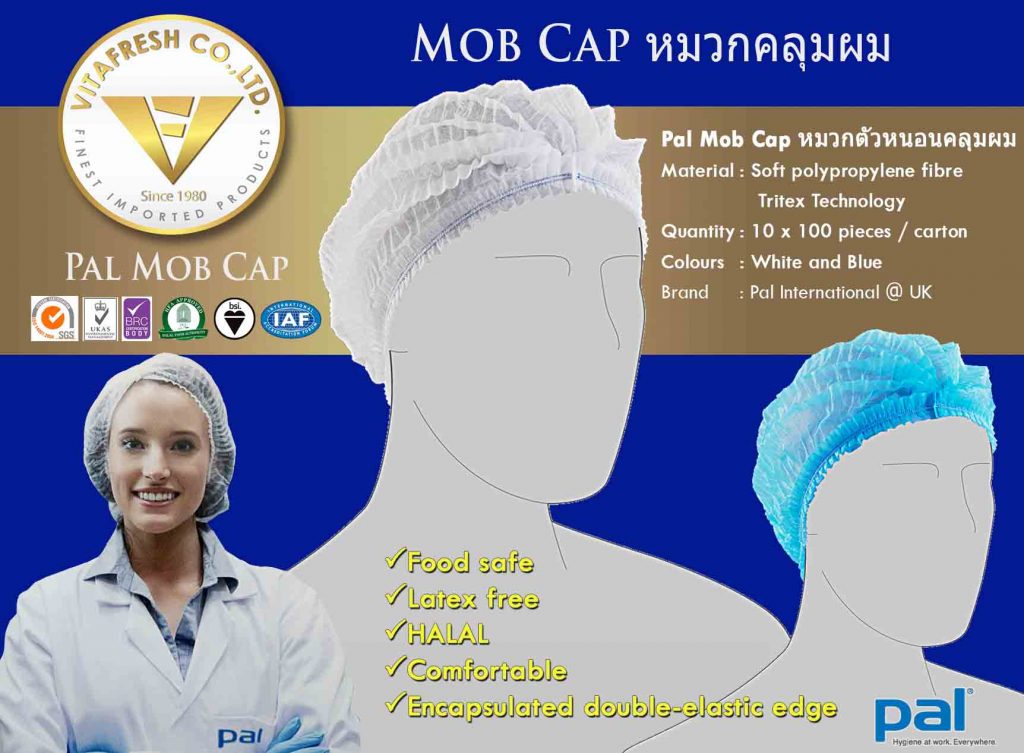 Premium quality mob cap by Pal International
Packing: 10 x 100 pieces / box
Colour: White & Light Blue
Pal mob cap available for sale in Thailand
Pal Mob Caps are a made from soft, comfortable, thermally bonded polypropylene fibre.
Food safe
Latex free
HALAL
Comfortable
Encapsulated double-elastic edge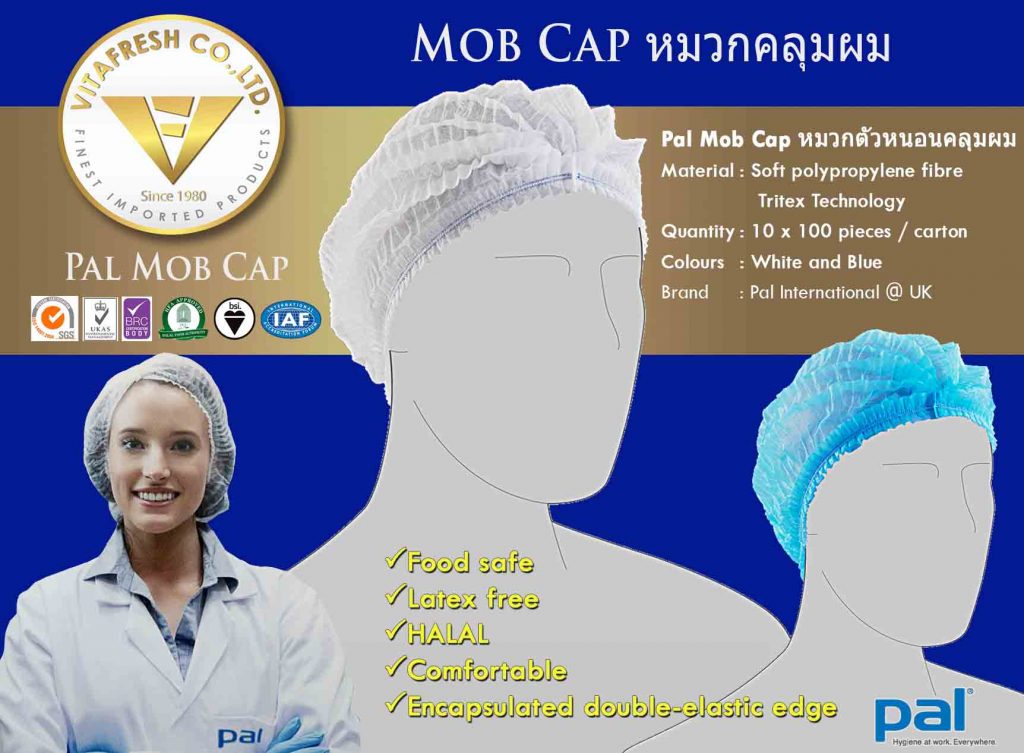 For more details,
VITAFRESH ( Finest imported dried food ) with over 3 decades of experience can guarantee quality and service.
สนใจสั่ง หมวกเชฟ หมวกกระดาษ หมวกเชฟกระดาษ หมวกกุ๊ก หมวกม็อบ หมวกตัวหนอน หมวกคลุมผม ติดต่อเราได้เลยนะคะ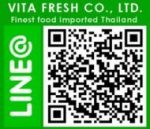 จำหน่าย หมวกเชฟ หมวกกระดาษ หมวกเชฟกระดาษ หมวกกุ๊ก ผ้าเช็ดทำความสะอาด หมวกม็อบ หมวกตัวหนอน หมวกคลุมผม ขายยกลัง
สินค้าคุณภาพ จากแบรนด์ดังระดับโลก Pal International, UK